Purchase Order Organizer Software
Purchase Order Organizer Software is an on-demand integrated business management suit to easily handle the overall sale-purchase details of any small to large commercial industry. Software allows you to efficiently maintain the entire sale-purchase records of your business at one place. The program helps commercial organizations to provide better service to customers and manage daily business cash flow.
Simple yet powerful PO management tool helps to grab accounting service opportunity for gaining competitive advantage over business rivals. Professional yet simple program enables you to control accounting records by providing expertise sale-purchase management software with flexibility to respond in ever-changing business environment. Program allows real-time control on entire sale-purchase order processing and various income-expense details of the organization.
Software covers major accounting task that includes:
Maintains Company records: Software allows user to create Company records with its account details to easily manage the sale-purchase order processing.
Maintains Customer/Vendor records: Software allows user to easily create and update Client/Customer details, Vendor records and Item details (Name, Price, Vendor Company, Creation date etc).
Report generation: Generates electronic and easily printable financial reports including Sales report, Purchase report, Item transaction report etc to easily analyze the business performance.
Other Features of Purchase Order Organizer Software:
Accurate and easy management of entire sale-purchase records and reports.
Organize the entire invoices, sale-purchase orders and other information like receipts, deposits, delivery order, payment details etc at one place.
Password protected feature restricts unauthorized user to access sale-purchase order records.
User-friendly GUI interface with interactive help guide to easily understand the entire software features and working.
Easily installed and run on PC and no expert guidance is needed to operate the program.
30 days free trial software demo to examine its account managing capabilities.
Purchase Order Organizer Software Screenshots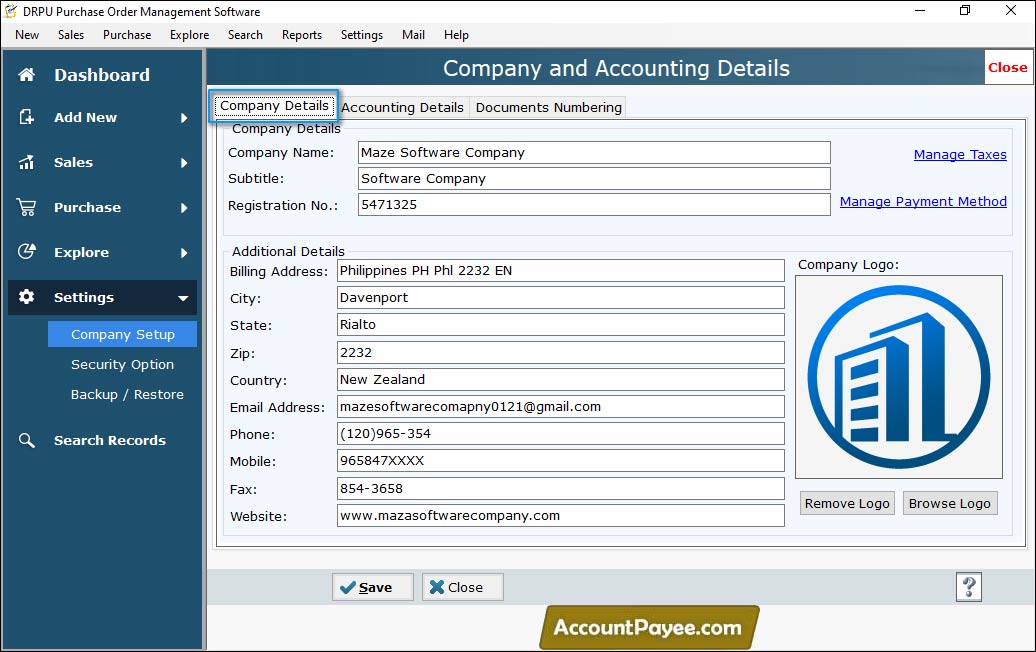 Fill all required Account Details then enter date and Bank details. After that, click Save.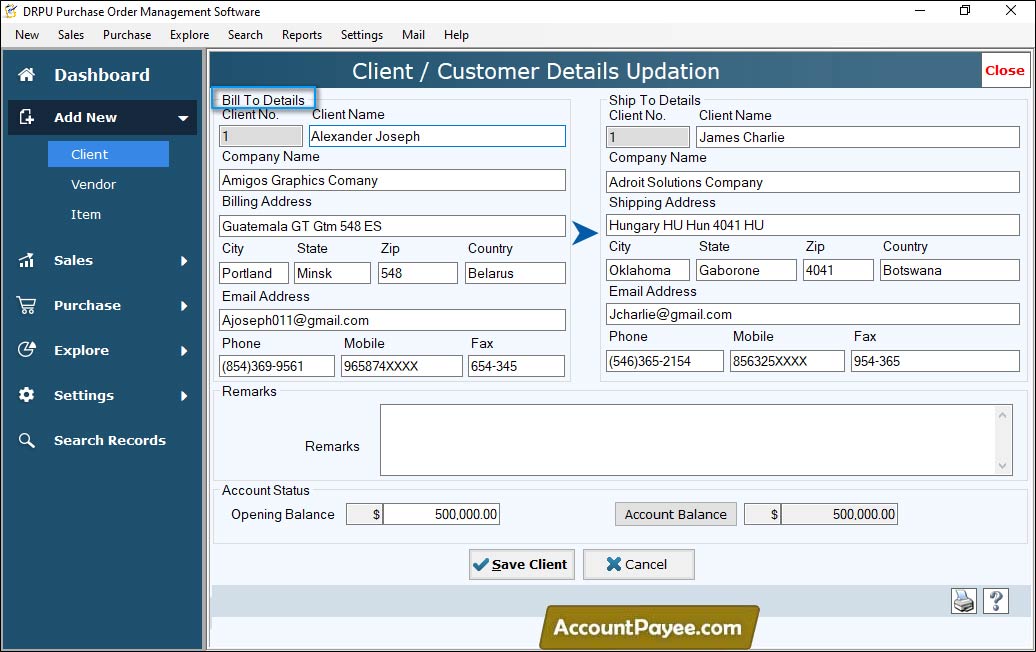 Click Client from the left panel then enter all mandatory values related to "Bill To Details" and "Ship To Details".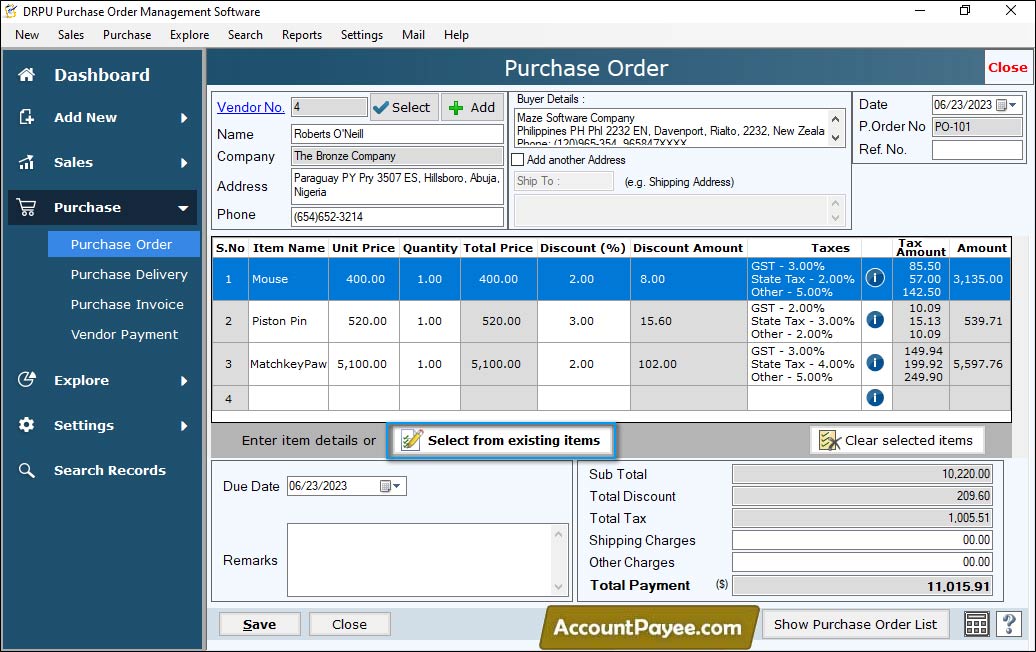 Select the rows and columns to print according to the requirements.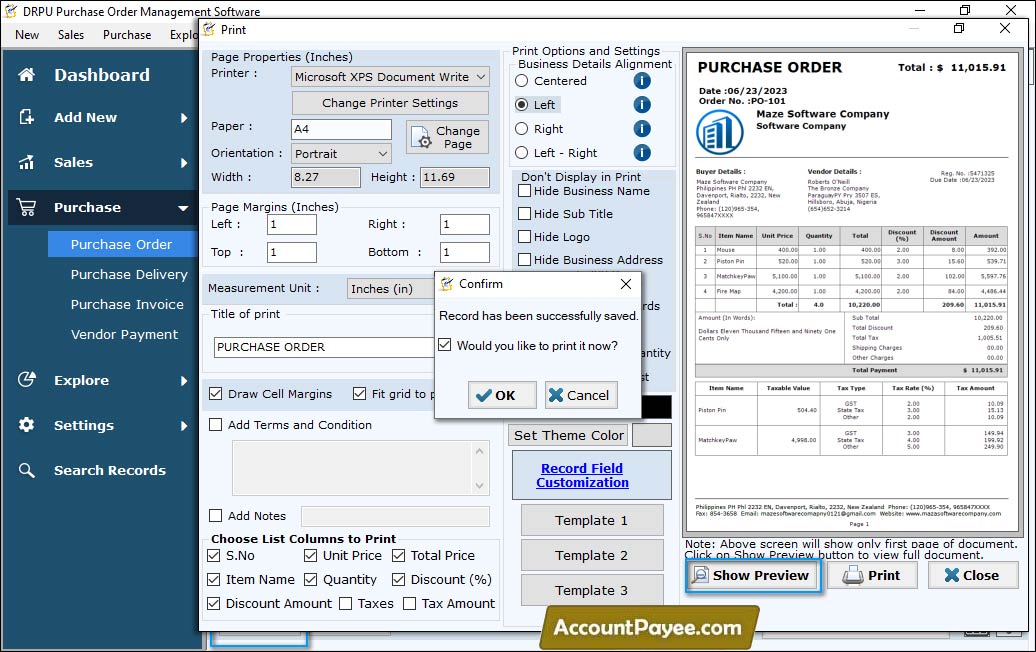 Print Preview of Client/Customer List is shown.