Financial Accounting Software (Enterprise Edition)
Enterprise Edition Financial Accounting Software, with additional barcode feature, manages the overall business of any organization in efficient way. The program allows speedy and easy management of entire financial records and accounting reports of any business with support to standardized barcode fonts. The barcode feature helps in fast and accurate accessing of item details, quick product identification and easy management of stock-inventory records.
Professional billing software facilitates huge time saving and provides useful updated business information on day-to-day basis. Program allows user to easily figure out the entire income-expense records, profit-loss details and other business expenditures of the Company at single host system. The program reduces any accounting data entry errors and manually handling the complicated financial tasks. Software provides mobility to the Company and shows how to cut business cost that easily adapt to any business needs.
Benefits of Barcode technology in Accounting software:
Easy access to accounting database records.
Effectively maintains entire Sale-Purchase records.
Quickly access the product details.
Reduced data entry errors and redundancy.
No manual business processing and lengthy inefficient accounting task.
Major Features of Financial Accounting Software (Enterprise Edition):
Efficiently manages the overall financial and accounting system of any organization.
Prepares Voucher entries related to sale & purchase, payment voucher, receipt voucher, debit-credit note etc.
Maintain Customer-Vendor records and Company details.
Manage business accounting details including account, item, stock, taxation etc.
Generate accounting reports like Sale-Purchase report, Stock report, Production report etc.
Accurately maintains Balance Sheets, Trial Balance and Profit-Loss reports.
Provides option to enable or disable barcode feature.
Provide business data backup facility for future reference.
Password protected and Freeze date feature restricts unauthorized user to access important accounting records and reports.
And More…
Quickly downloaded and easily installed on PC.
30 days FREE trial software demo.
No technical skills are required to operate the accounting software.
User-friendly GUI interface.
Cost-effective and affordable to use.
Financial Accounting Software (Enterprise Edition) Screenshots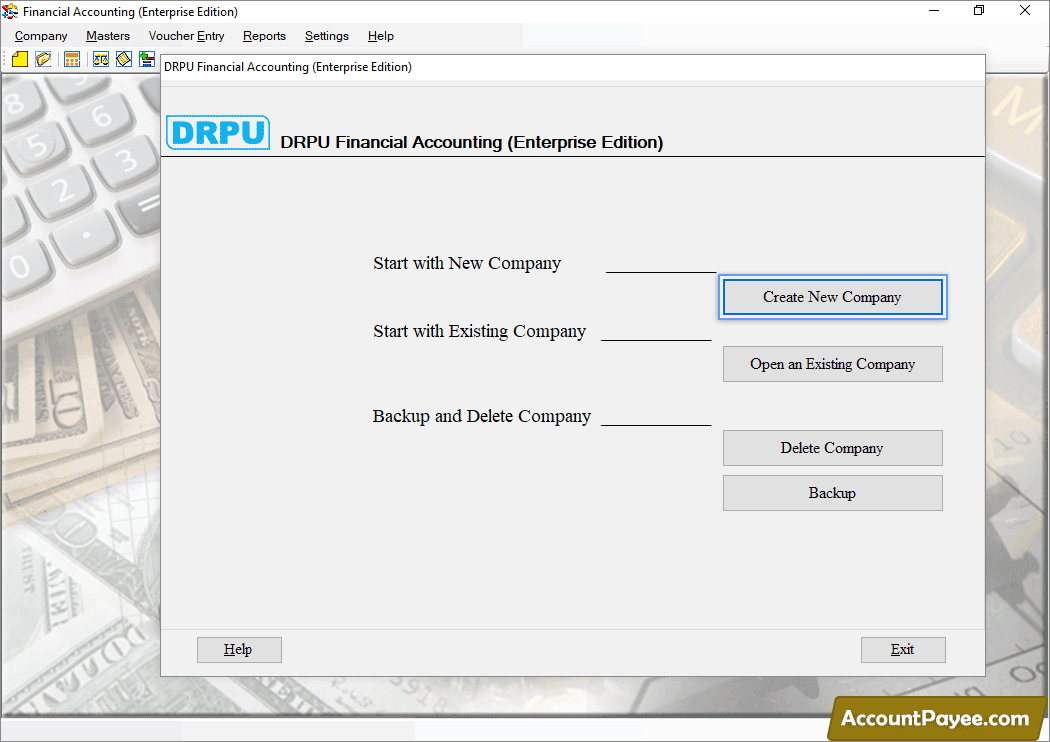 Choose any one option Start with New Company, Start with Existing Company, Backup and Delete Company.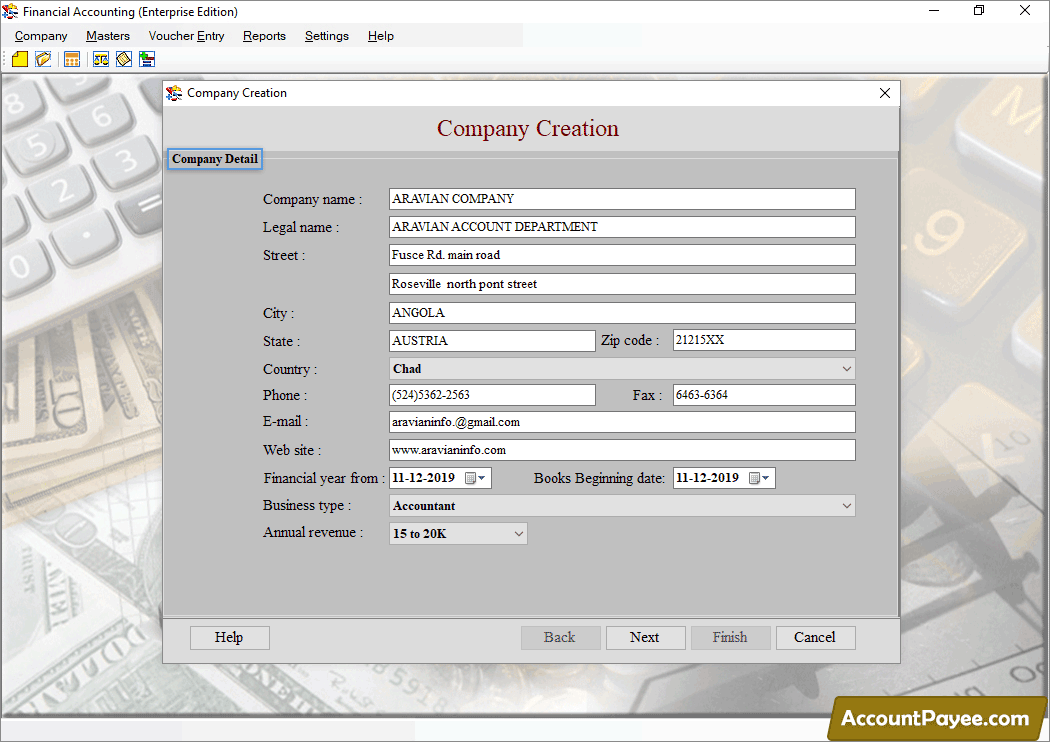 Enter Company Name, Legal Name and other necessary company details then click Next.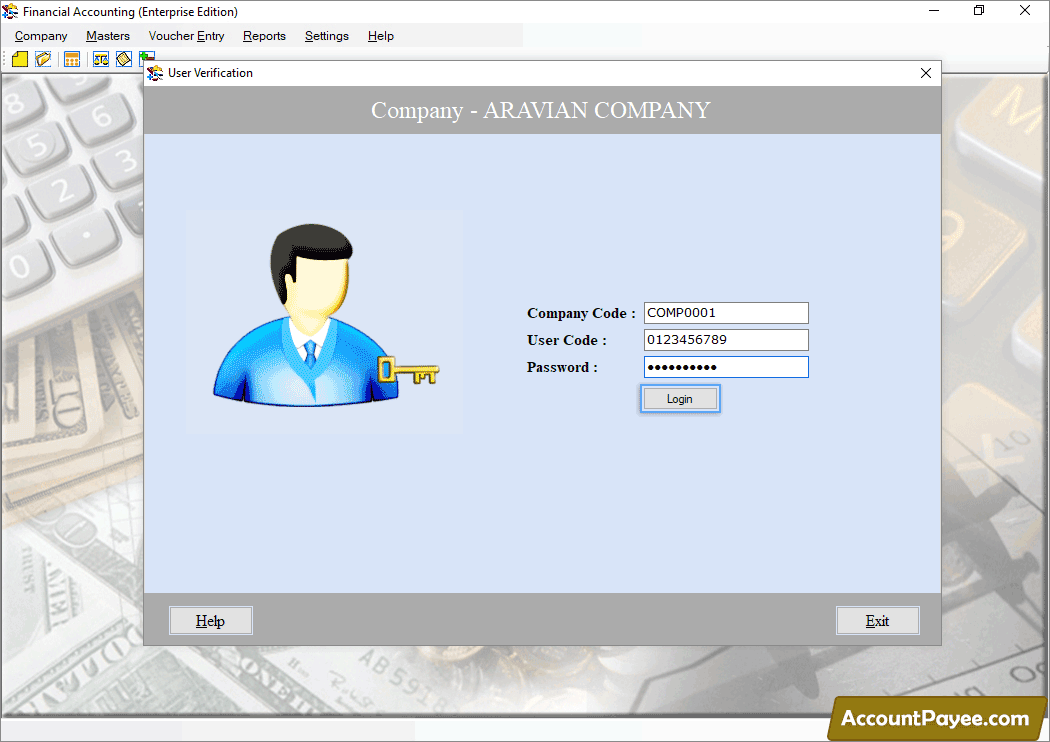 Enter Company Code, User Code and Password then click Login.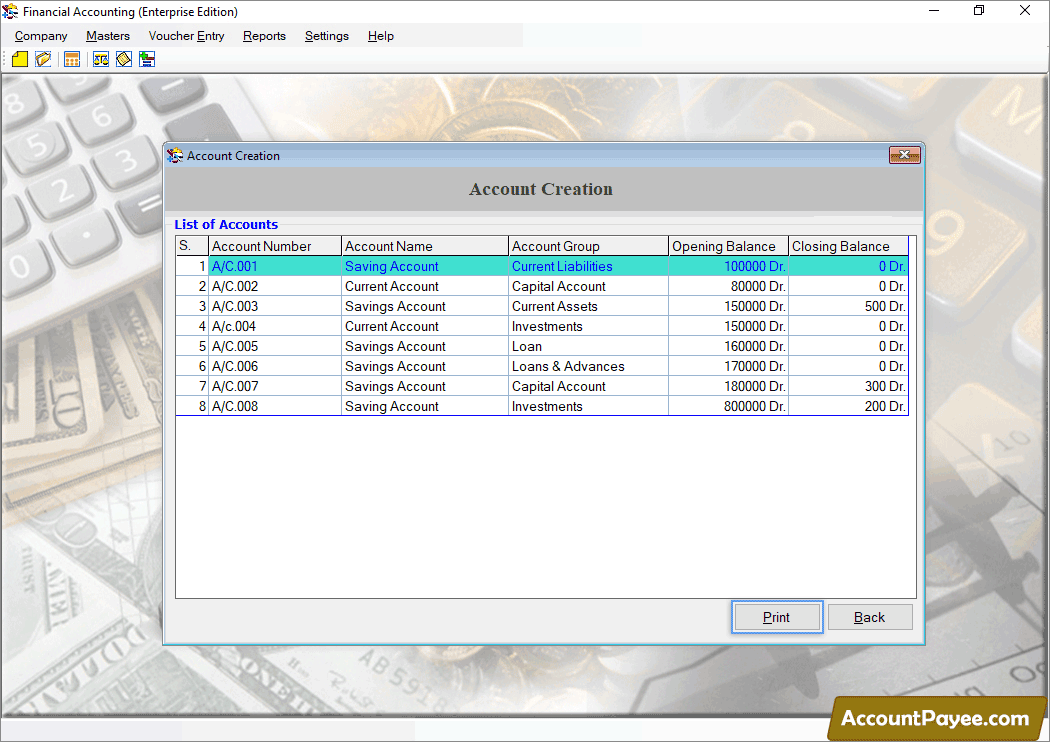 Click Print to print out the list of accounts.