Financial Accounting Software (Standard Edition)
Every business needs a way to save valuable time and money spent maintaining the complex financial and accounting records. Standard Edition Financial Accounting Software facilitates unique solution for efficiently managing the entire business details in minimal time. Advance account-payee program allows user to maintain income-expense records of the organization and provides timely accurate financial information that helps in easy decision-making.
Best bookkeeping software provides centralize management of entire business by managing the overall company details, fiscal records and balance sheets at one place. The excellent accounting program helps in easy management of stock-inventory records and other financial details of any enterprise. Award-winning program facilitates computerized management of entire business records and helps in getting rid from complex pen-paper based task.
Software covers major accounting task that includes:
Customer-Vendor records management: Software maintains the entire customer-vendor records with facility to update company profiles.
Sale-Purchase records management: Software efficiently manages the overall Sale-Purchase details of the Company and generates simple easily understandable Sale reports, Purchase reports and Production reports of day-to-day business transactions.
Inventory management: Software manages all stock-inventory records of the Company with facility to generate computerized Stock reports.
Other Features of Financial Accounting Software (Standard Edition):
Maintains various accounting statements like Voucher entries, Taxation details, Day book, Cash book, Bank book, Journal book, Debit-Credit note etc.
Accurately maintains business reports related to Stock, Sale, Purchase and Production. Flexible currency management facility.
Advance report generation facility including Balance sheet, Trial balance and Profit/Loss reports.
Friendly GUI interface and no technical learning are required to operate the software.
Cost-effective and affordable with 30 days free trial software demo.
User-login and Freeze date feature prevents external user from making any unauthorized modification in business records.
Provide option to save accounting records for future analysis.
Financial Accounting Software (Standard Edition) Screenshots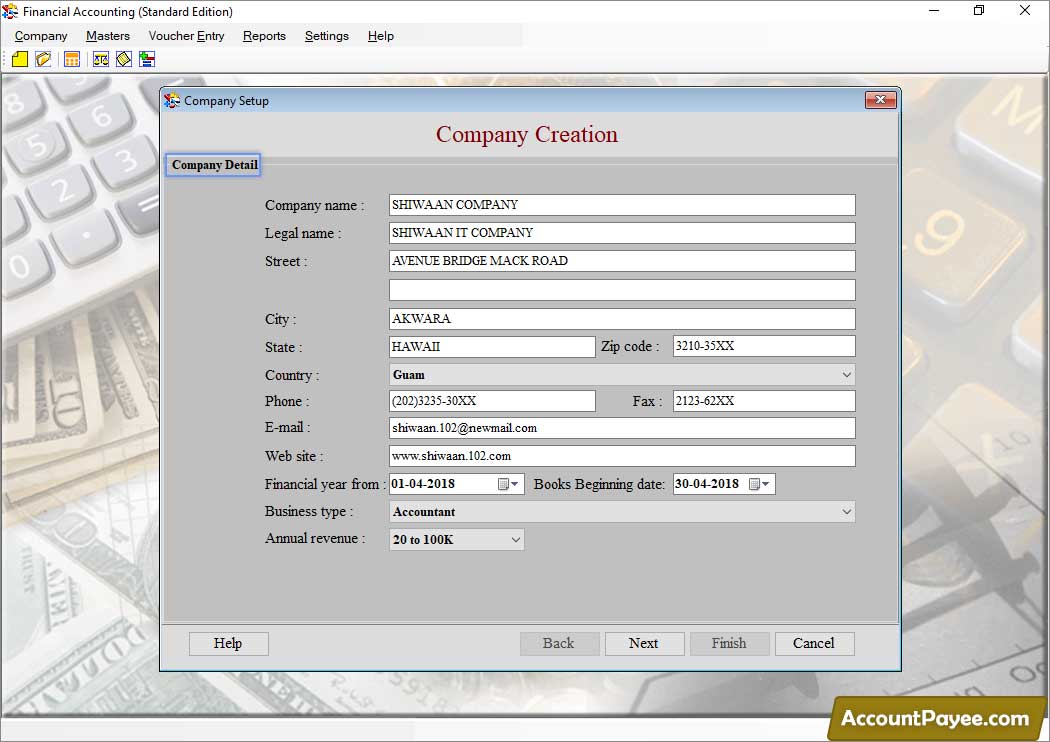 To create a company fill all the required fields in company details then click Next.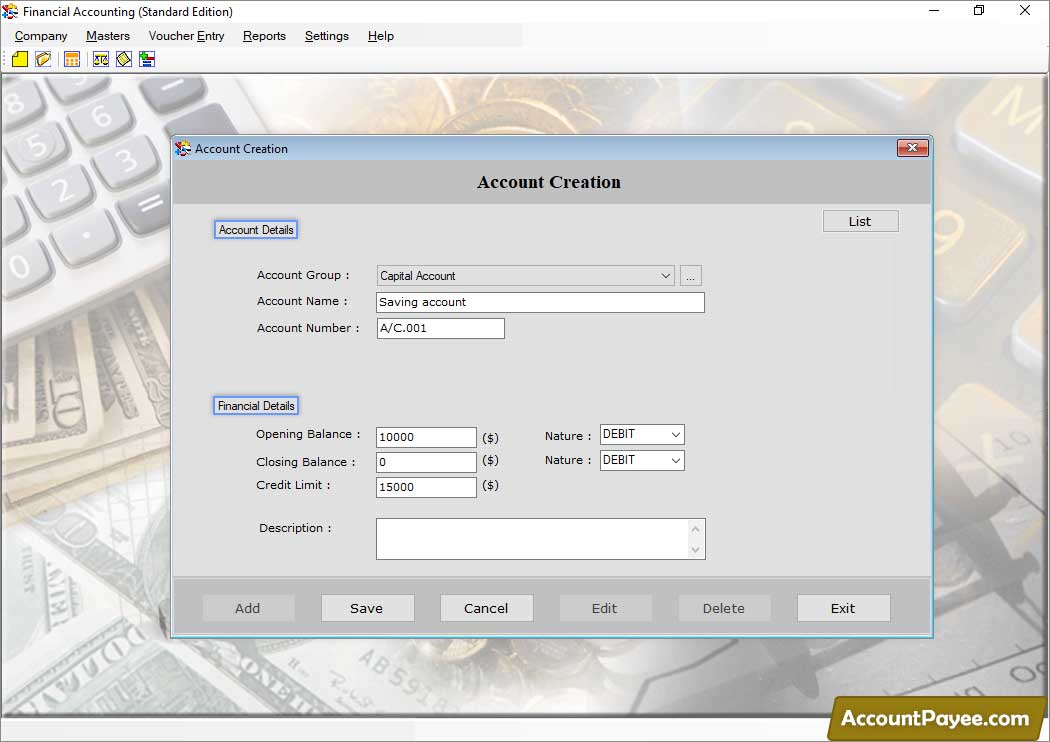 Enter Account Details and Financial Details then click Save for further usage.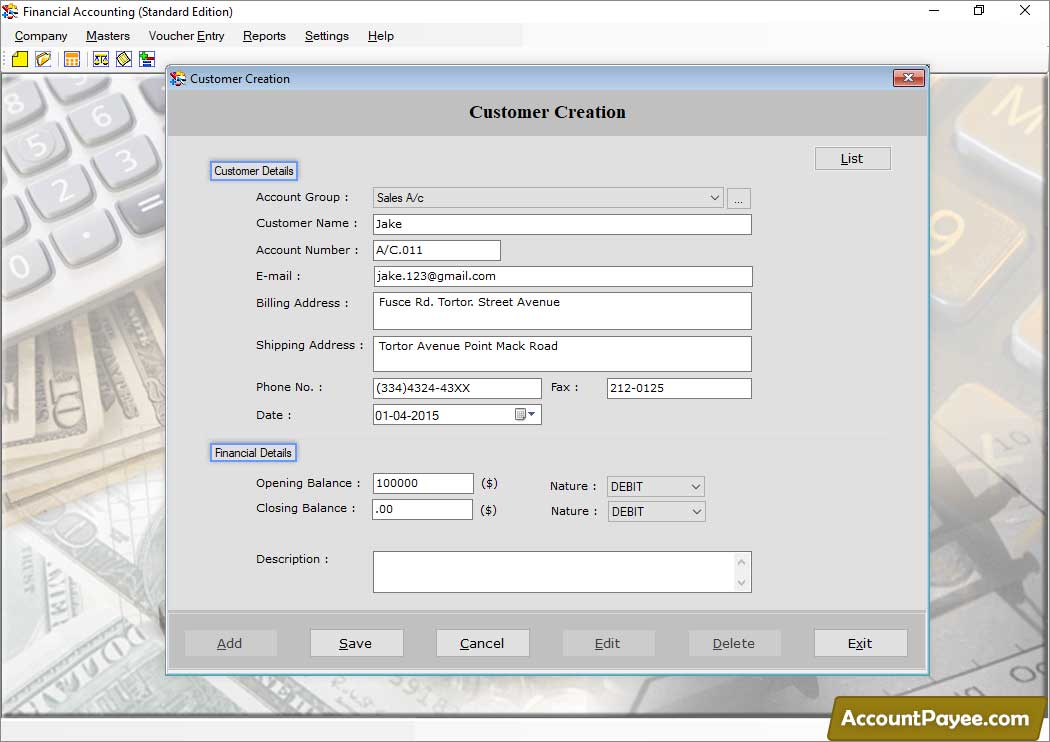 Fill Customer Details (Account Group, Customer Name, Account Number) and Financial Details (Opening Balance, Closing Balance).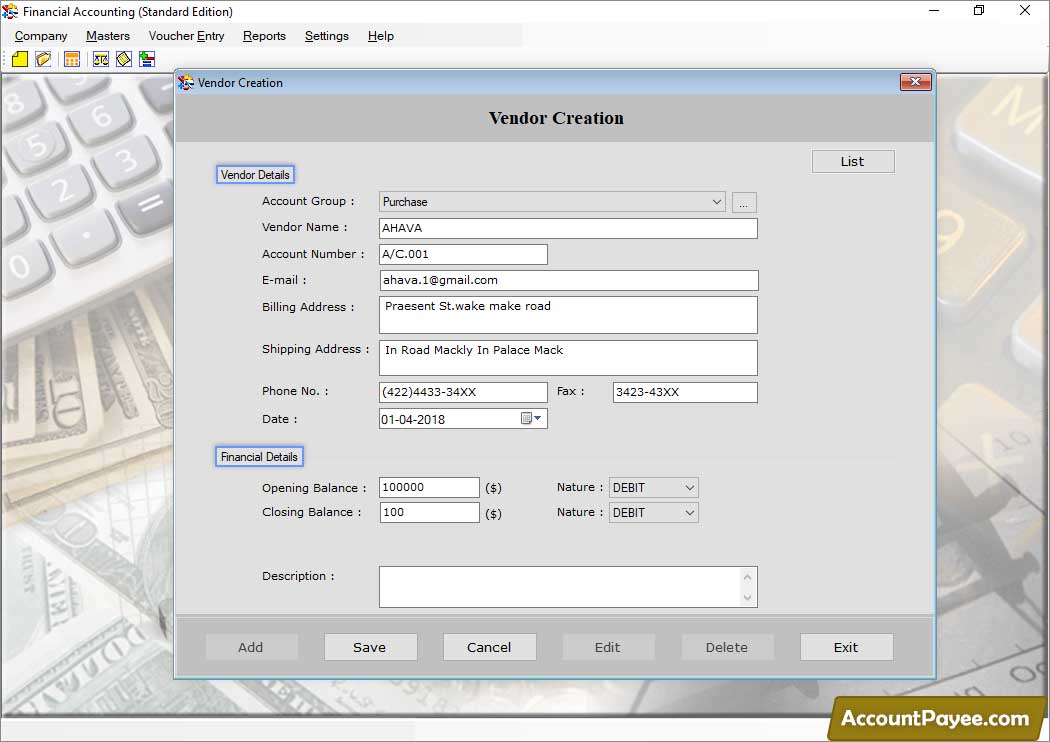 Enter Vendor Details and Financial Details as per need.